The King of Whys (Vinyl/CD/Tape)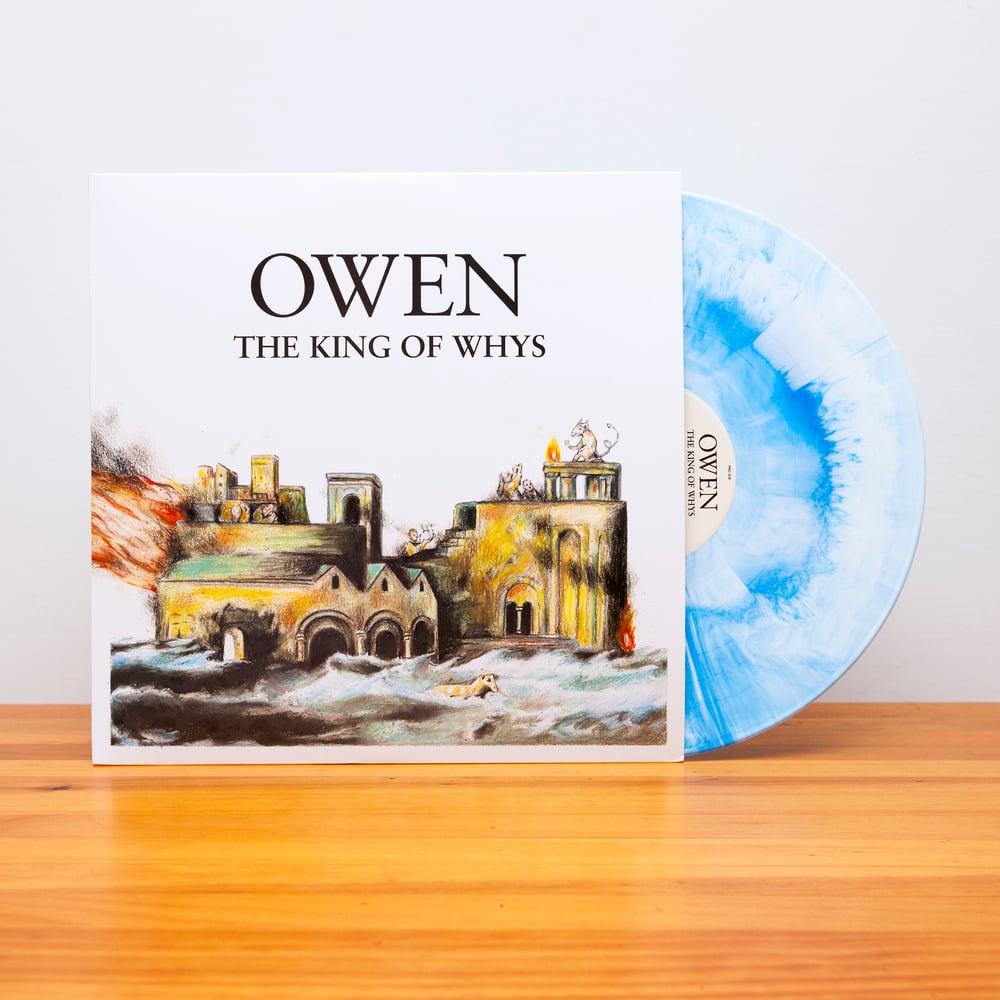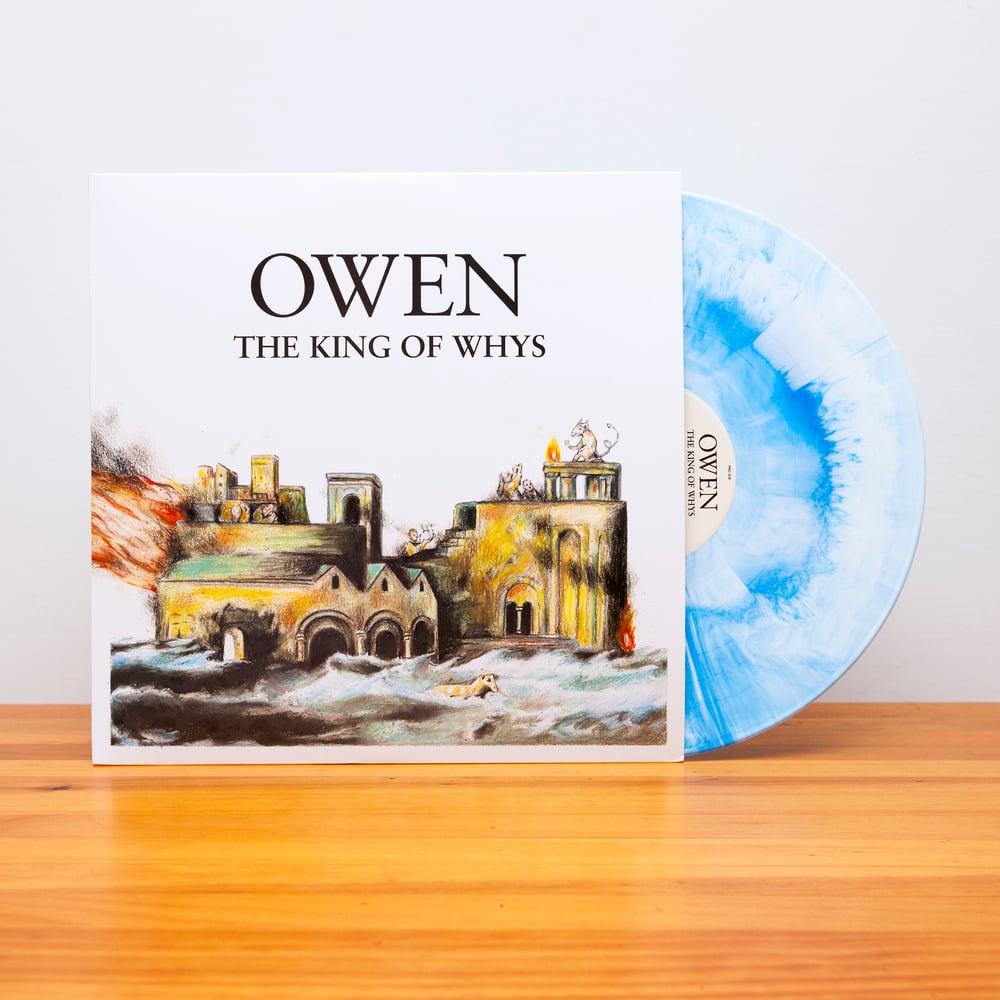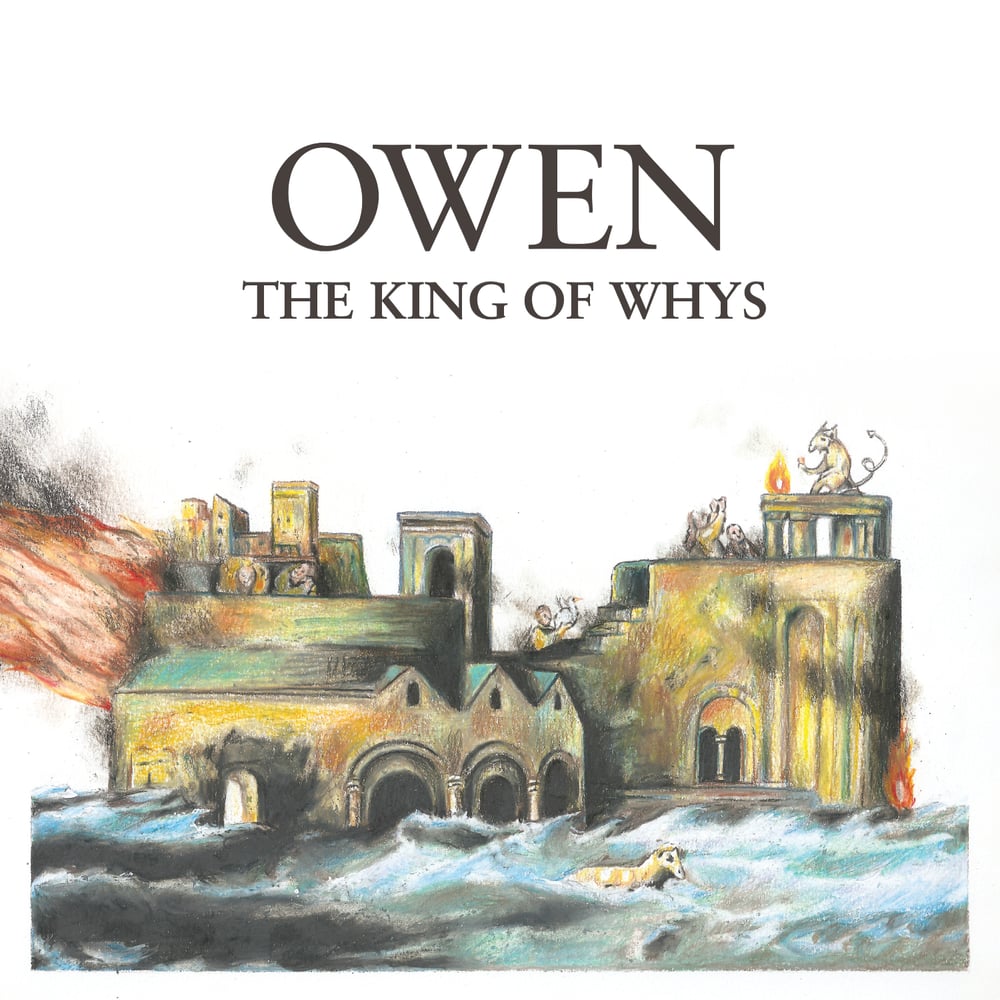 Owen – the acclaimed solo musical guise of singer/songwriter/multi-instrumentalist Mike Kinsella – has made an astonishing leap forward with The King of Whys, the first work in his two-decade-plus career to be made entirely outside of the greater Chicagoland area.
Produced by S. Carey over 18 days last winter at April Base Studios in Eau Claire, WI, the album is Owen's most inspired and evocative thus far, interpolating a group dynamic into what has long been an intensely intimate sound.
Songs like "The Desperate Act" and "Sleep Is A Myth" remain spare but with a distinctly outward shift in scope, their open-armed sonic range a perfect foil to Kinsella's evocative explorations of marriage, melancholia, and modern middle age.
Fraught with hurt and wry humor, The King of Whys is a portrait of a restless artist grappling with doubt and ghosts of the past but searching for meaning through candor, creativity, and an ardent need for emotional release.
"I think this record is totally romantic," Kinsella says. "I told my wife, she wasn't convinced. I said that this is how I get it all out of me. It leaves me more content to deal with reality."
For more than two decades, Kinsella has been a central figure in Chicago's indie rock universe, serving multiple roles in a string of bands whose influence continues to resonate across a span of genres and musical approaches. A founding member – with his brother Tim – of Cap'n Jazz, Joan of Arc, and Owls, Kinsella's own vision first manifested via American Football's cathartic rock, but for most of the years since 2002, through Owen's raw homespun offerings. Adopting the solo singer/songwriter persona freed Kinsella from a lifetime working in collectives, giving him complete control over every aspect of his creativity.
"I can say whatever I want as Owen," he says. "I can express all the aspects of my personality – I can be crude or funny or sad or mean or whatever. It's my personal thing."
Owen's lo-fi, largely acoustic bedroom recordings have evolved over eight albums and myriad EPs into a more orchestrated approach reflective of Kinsella's growing strength as a songwriter.
A series of recent efforts inspired him to further broaden Owen's reach -- from American Football's well-received 2014 return to simply getting behind the kit in Chicago indie rock trio Their/They're/There – his first stint as a mere drummer in over a decade.
Still eager to push Owen's hermetic parameters, Kinsella enlisted producer S. Carey – frequent collaborator of Bon Iver, Sufjan Stevens, Mason Jennings and acclaimed solo artist in his own right – to helm his next album, the two like-minded artists having first met as Carey supported a handful of dates on American Football's 2014 reunion tour.
Where Owen's prior outings were almost entirely performed by Kinsella on his own, Carey brought in some of the Badger State's finest players to add new flesh to his bare-boned songcraft. Kinsella, as usual, is up front on guitar, vocals, bass, drums, and bells, accompanied by Carey (keyboards, vocals, drums, bells) and such WI musicians as Zach Hanson, who also served as engineer on the record, violist Michael Noyce, pedal steel guitarist/keyboard player Ben Lester, horns player Andy Hofer, and bassist Jeremy Botcher, all of whom share credits including Bon Iver, S. Carey, and The Tallest Man On Earth. Together the combo crafts an expansive but still grounded backdrop for Kinsella's candid confessionals.
Kinsella has made more than a fair share of records – "I sure have," he says – so the remarkable fact that this is his first album in a 15-year span releasing music as Owen recorded outside of Chicago and his own circle must have had significant impact.
"I joined my brother's band in seventh grade," he says, "and then kept playing in my brother's bands for the next fifteen, twenty years. Even American Football, that was with an old high school buddy so it was still very comfortable. Taking me out of my comfort zone definitely led to something different."
Leaving his scene behind offered an array of new possibilities but also opened up a very different emotional response. Though Kinsella was a fan and familiar with his collaborators' work, he was still the newcomer to the gang, "a totally weird experience for a grown man."
"They're all really good friends," he says. "They work together all the time, they have their own language, and then there's me, going, here's my songs. It felt like junior high, like I was the kid starting a new school in the middle of the year."
The process itself was unlike previous Owen recordings in that Kinsella was for the first time able to let go of various instrumentation, allowing his fellow musicians to carry some of the weight only he previously bore.
The sheer songcraft on The King of Whys more than warrants the expanded production, Kinsella dissecting his own foibles and familial relationships with caustic wit and a mordant sense of self-awareness. "Lovers Come And Go" and the elegiac "Saltwater" see the songwriter processing his experiences as he approaches the big four-oh, using his art to learn how to be a better father and husband.
"I worry that anyone under twenty five isn't going to care about how tired he is from chasing his kids all day," Kinsella says, "but whatever."
The King of Whys has far more going on than the self-deprecating Kinsella suggests, touching on universals like addiction with "Empty Bottle," the place where so many long dark nights of the soul begin, whether it's the venerable Chicago club or a just-finished fifth. Songs like "A Burning Soul" – a scathing looks at how his dad's alcoholism has affected his own young family – and the closing "Lost" are haunting and poignant, alighting upon such common themes as love and loss, rebirth and redemption.
"It's dark on the surface but those are real feelings," Kinsella says. "For a while I was pretty self conscious about my songwriting. There are Internet memes about how sad I am. I just feel there are enough love songs playing at grocery stores – I can write about darker stuff."
An intimate singer/songwriter album recorded under contemporary circumstances, The King of Whys utilizes progressive techniques, song structures, and time signatures, but Owen's introspective humanity is timeless. Having made music for a very long time, Mike Kinsella continues to push himself towards transcendence with honesty, artistic ambition, and a sense of real circumstance.
1. Empty Bottle (4:27)
2. The Desperate Act (3:33)
3. Settled Down (3:17)
4. Lovers Come and Go (4:37)
5. Tourniquet (4:14)
6. A Burning Soul (3:30)
7. Saltwater (2:55)
8. An Island (4:12)
9. Sleep Is a Myth (4:28)
10. Lost (3:44)
Release Date:
July 29, 2016
PRC-316